Portfolio
Copywriting specialities
Beauty ⏐ Lifestyle ⏐ Travel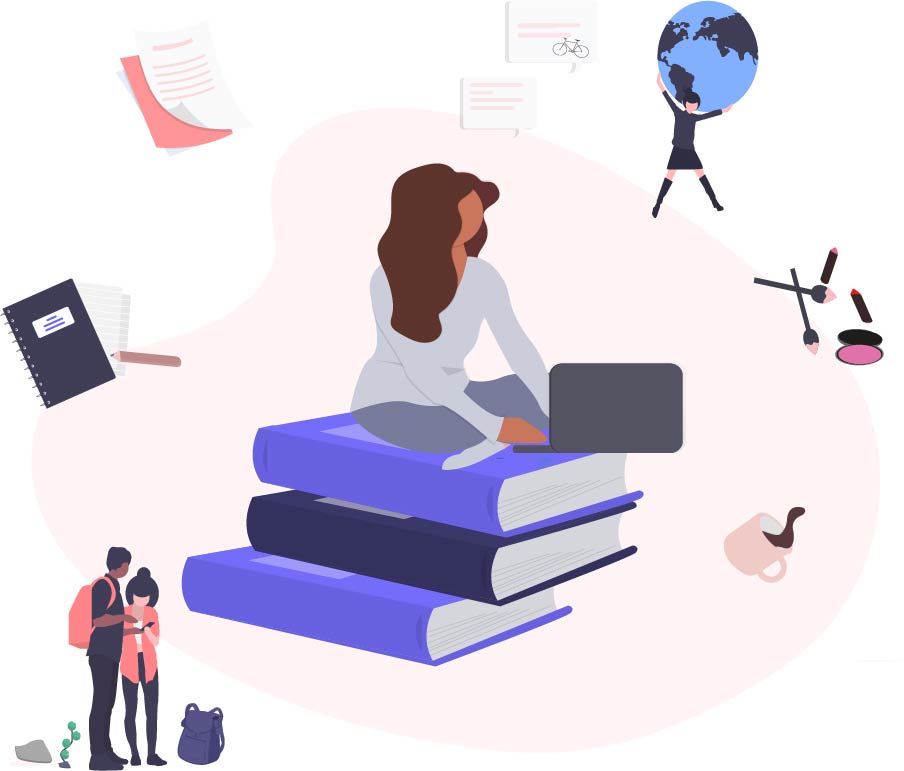 Beauty
My knowledge as an expert makeup artist connects my beauty writing with the real people who will be buying your products.
Because I know how products perform, I create content that gets straight to the benefits your customers are looking for.
Lifestyle
Whether long or short format, get me to sweep your customer off their feet.
I'll produce highly engaging content with a clear call to action.
Travel
Who better to write on travel than an insider?
I've stayed at over 200 hotels, travelled to nearly every continent on the planet and visited a host of cities worldwide. Your advertorials will be written with expert tips.
Promote and inspire readers to use certain products and go to specific places in story format
Travel Advertorial Copy
Informational Feature Spec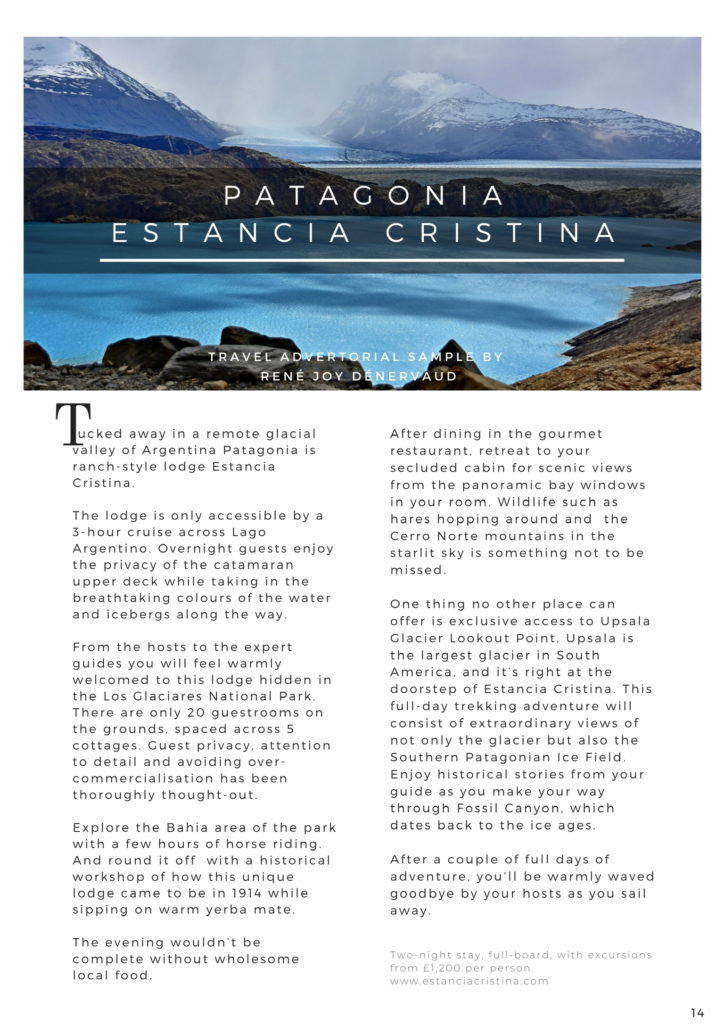 Advertising copy, branding campaigns, promotions, slogans
Advertising Copy
Travel Backpack Spec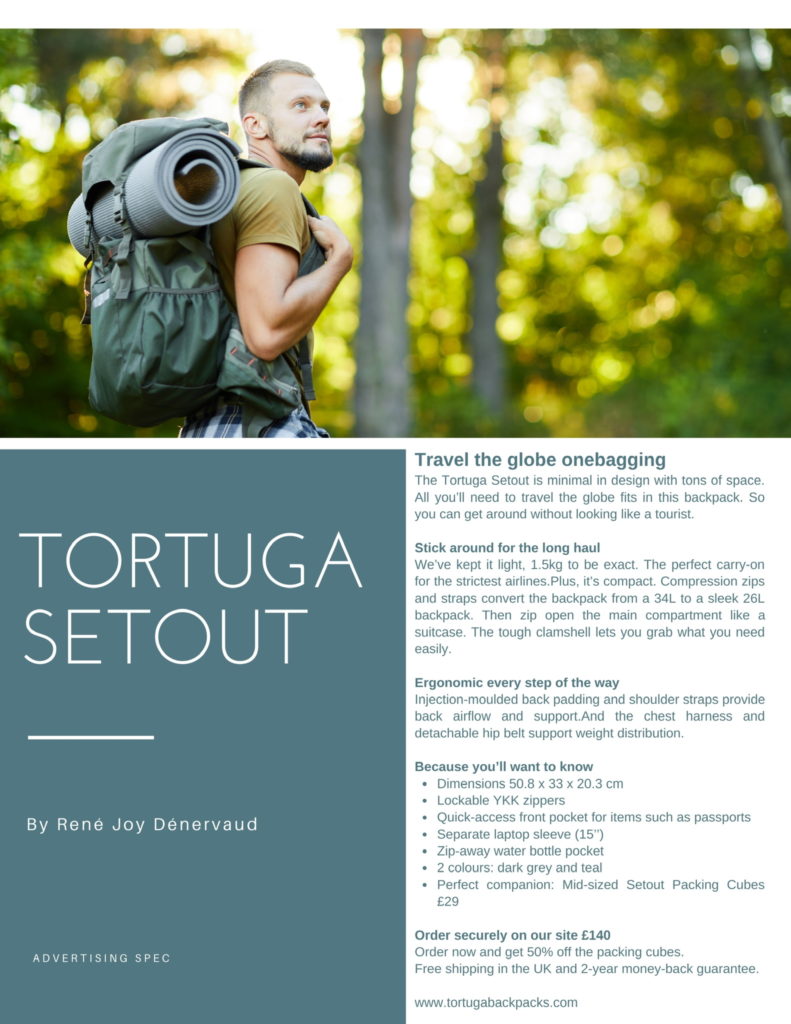 Branding Campaign Copy
Beauty Spec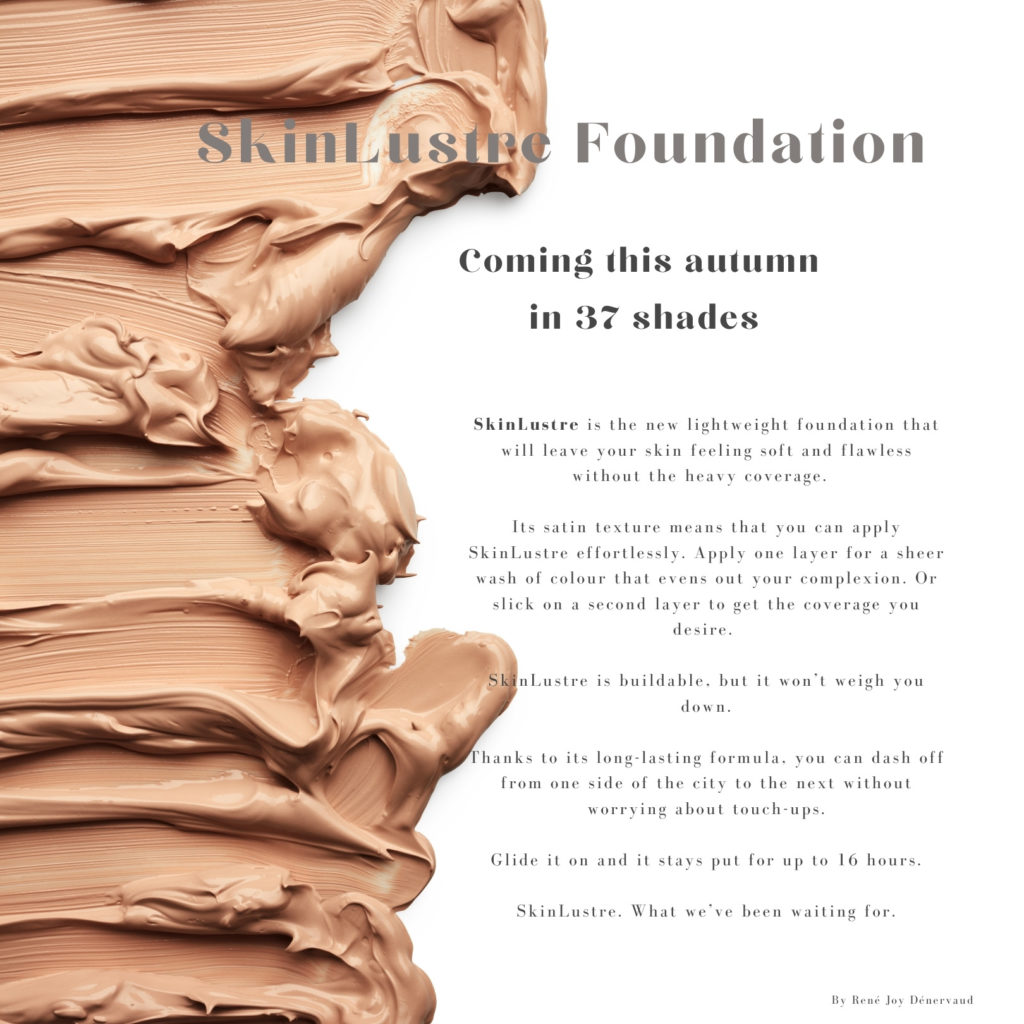 Promotional Copy
VW California 6.1 Ocean Spec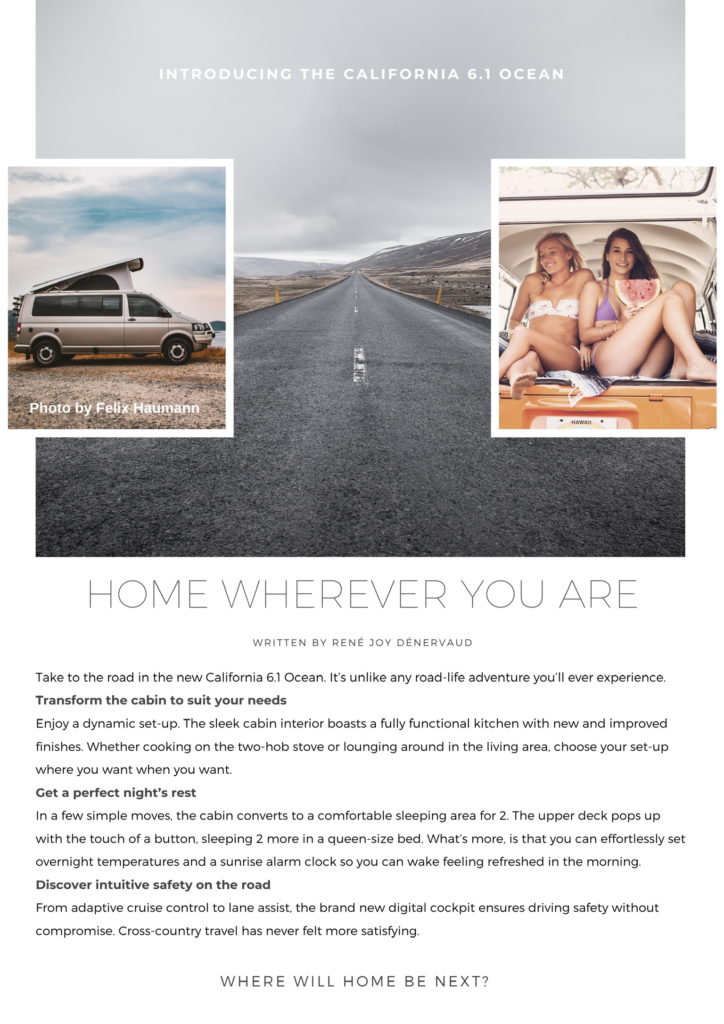 SEO focused articles, editorials
Featured Print Editorial
Hello Switzerland is an English magazine publisher with 258K readers per year.
To help expats settle in, they provide lifestyle articles which offer tips and insight into life here.
My editorial featured on the cover of their first 2020 printed magazine, and I've written a few more articles for their online platform.
Click here to read my cover feature.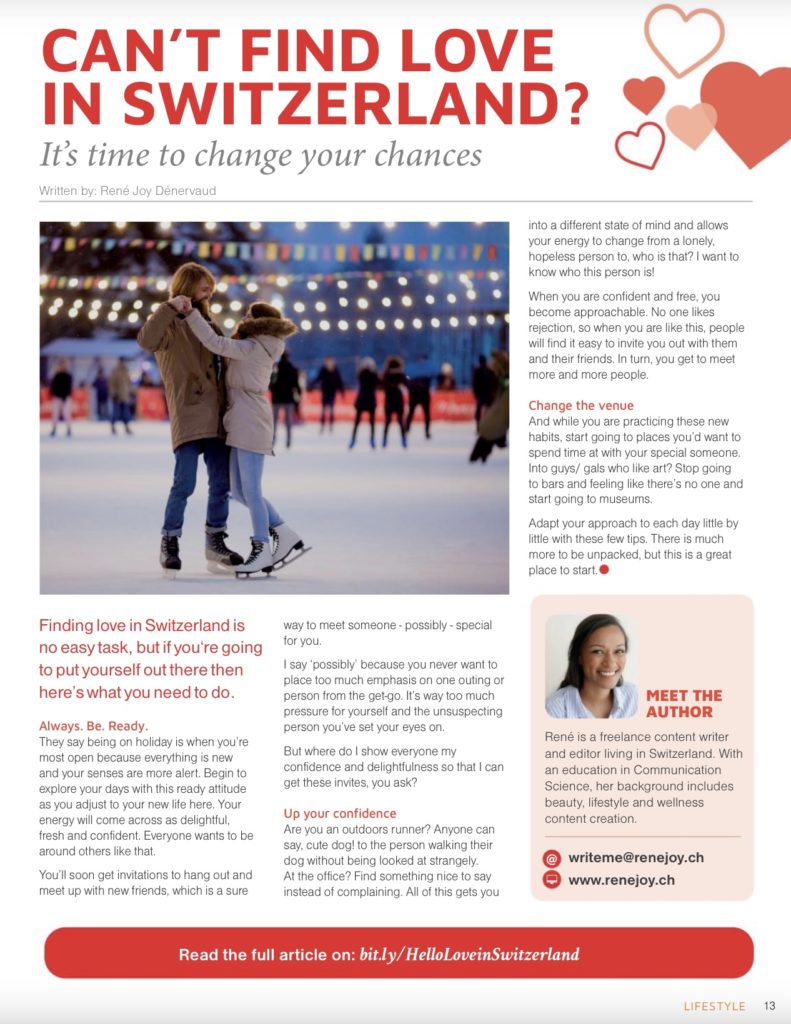 Website SEO: articles, webpage content, product pages
Site-Wide Content
The Mixed Beauty was a beauty, wellness and lifestyle blog. Running from 2017 – 2019 I planned, created and managed the content for this site on WordPress CMS.
The site served as a writing playground focused on overall wellbeing in day to day life.
Site-wide SEO Content
The site-wide content and SEO of this site was carried out by myself.
From building the site to carefully crafting the copy on each page.
Hop over to my writing services to learn more about what I can do for you.
SEO stories/articles
SEO website story
Product Page
Travel Backpack Spec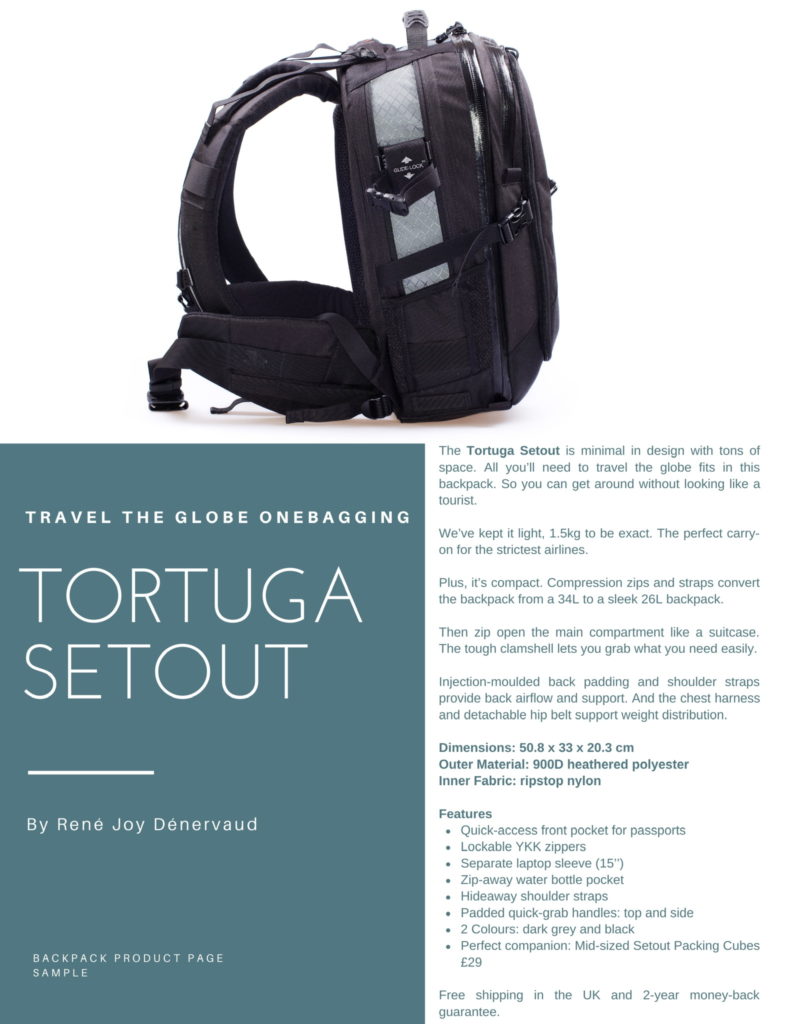 Product Page Long-form
Luxury Yoga Retreat
Project task
The client's objective was to promote a luxury yoga retreat experience in the Alps. This was a high-ticket item.
The page had already been created and needed an in-depth review to improve the overall structure. Part of the task was to ensure that the story flowed, did not go off track too far and placing the call-to-action at the right moment of the page.
Project solution
Brand consistency, maintaining the voice of the message and immersing the reader in the luxurious location was key to keep the prospect reading to the end. My suggestion was to fully immerse the prospect in the story before speaking about the cost so they could get swept up in the idea of the retreat and really imagine themselves there.
Apart from grammar, stylistic changes and in-depth editing, I'd split some paragraphs to make the reading flow easier. I also removed information that went too far off the trail from the actual retreat.
Next, I suggested bolding and increasing the size of very important text: I put the contact email, some dates and texts in bold so that it was easy for readers to see. The call-to-action was made clear. If the reader wanted to take action and/or come back to the page later, it would help them a bit more with 'quick-grab' information that stood out. I'd also suggested making these a bit bigger so it stood out from the rest of the text.
Finally, I suggested some alterations and removal of an overflow of image re-selection was an additional area that was reworked for the final touches.
The client was extremely happy with the work after the first draft that I shared, and I simply finalised that information in the format agreed upon before delivering the final project.
Winter Wonderland Yoga Retreat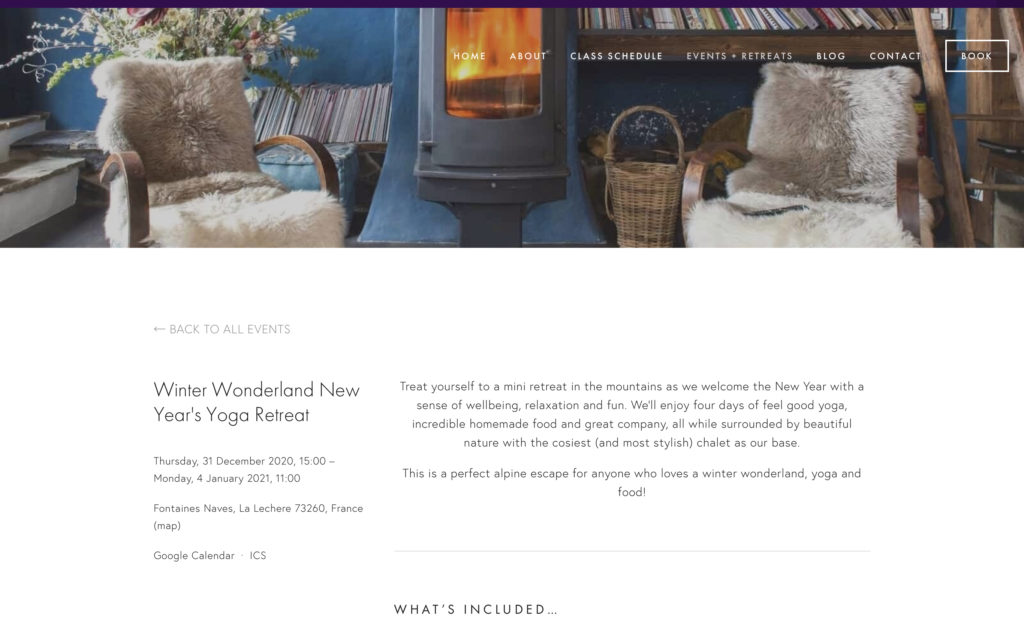 I would recommend René without hesitation. She's not only extremely talented, personable and professional, but also lovely company while chatting through ideas over coffee. She was quick to reply to my messages, gave clear feedback, and completed the job quickly without compromising on quality. I really liked that she made her suggestions along with explanations so you could understand the 'why' behind her work. It made me appreciate the value she was adding. She's a 5 star, 10-out-of-10 kind of lady!